Fire Pits
Outdoor Fire Pits Are Great for Warmth & Entertainment
Get Cozy Around A Fire
A fire pit will bring warmth and joy to any backyard or outdoor patio area. They're perfect for entertaining or simply enjoying quite nights at home, soaking up the spirit of the outdoors around a crackling fire.
Wood burning and gas fire pits are available in copper, iron, and many other durable yet stylish materials. Serenity Health offers many sizes and styles to accent your deck or patio perfectly. The right fire pit can quickly turn your outdoor area into your favorite entertainment space as well as a welcome retreat after a long day.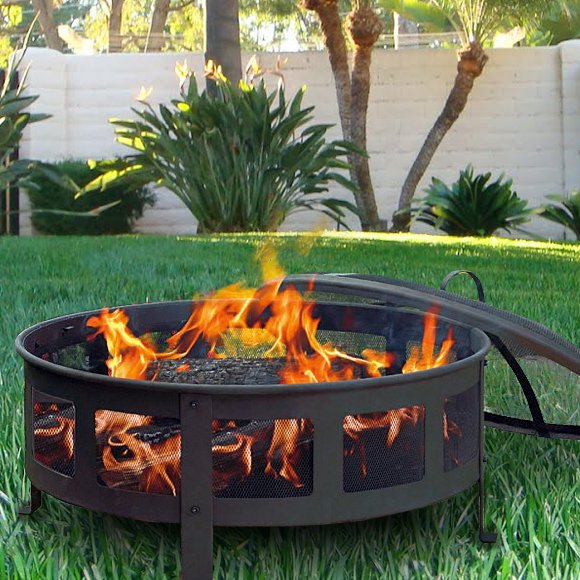 Fire Pits for Every Outdoor Space
Whether it's your backyard, your patio, or your deck, you'll find the perfect fire pit for your outdoor space at Serenity Health. Shop now and start enjoying your deck or patio long into the beautiful evenings and nights of spring, summer, and fall.
Finding the Right Fire Pit
When selecting a fire pit, there are a few factors to consider. Once you've narrowed down the options, you'll have no trouble finding the perfect fire pit for your outdoor space.
Materials: Fire pits are manufactured from a range of materials, including steel, cast iron, copper, and other metals, stone, and lightweight faux-stone. Slate, ceramic, or marble tiles are common decorative accents for fire pits, as well.
Size & Shape: The size of your outdoor area will, of course, influence the size of the fire pit you purchase. Remember: the larger the fire pit, the larger the fire; the larger the fire, more fuel it takes and the harder it can be to control.
Fuel: A gas-fueled fire pit is preferred bythose who want a brighter, cleaner burning fire without the hassle of purchasing firewood. Wood burning models appeal to those who don't want to install gas lines and who appreciate the smell and crackle of a wood fire. Remember to check local ordinances in your community to find out what types of fire pits are allowed.
Decorating Style: No matter what style of décor you prefer, Serenity Health has an outdoor fire pit to accentuate it. You'll find rustic, modern, classic, casual, contemporary, Asian-inspired, and many other styles of fire pits for sale—you're sure to find the right one to match your décor.